FTM Top Surgery Guide
Find FTM Surgeons, Top Surgery Info

FTM Top Surgery is a gender reassignment procedure for transsexual men that creates a masculine chest. Top Surgery involves breast removal (Subcutaneous Mastectomy) and male chest contouring, and can also include free nipple grafts, or nipple/areola resizing and repositioning.
Top Surgery is the most commonly performed gender reassignment surgery for FTM transsexuals. Top Surgery allows a trans man to live more comfortably, improving psychological and social functioning, and it may be the only surgical step that he takes in his transition.
The different types of Top Surgery include Buttonhole Technique, Double Incision (DI), Inverted-T or T-Anchor, Keyhole and Peri Areolar.
Learn more about FTM Top Surgery »
Have Questions?

Find out how to empower your surgeon search with license and certification lookup tools and what board certification and other credentials really mean.

If you like weed but are concerned about how it could affect your Top Surgery, check out these tips.



Have you ever wished you could find a book that would guide you through the process of getting Top Surgery? Now that book exists.

Dr. Hope Sherie has developed a new technique for FTM chest reconstruction that prioritizes nipple-areola size, positioning, sensation and pigmentation, while avoiding extra incisions and free nipple grafts.

Over 150 FTM Top Surgeries performed a year, based in the Philadelphia area.

Consistent Top Surgery results for more than 10 years. San Francisco, California.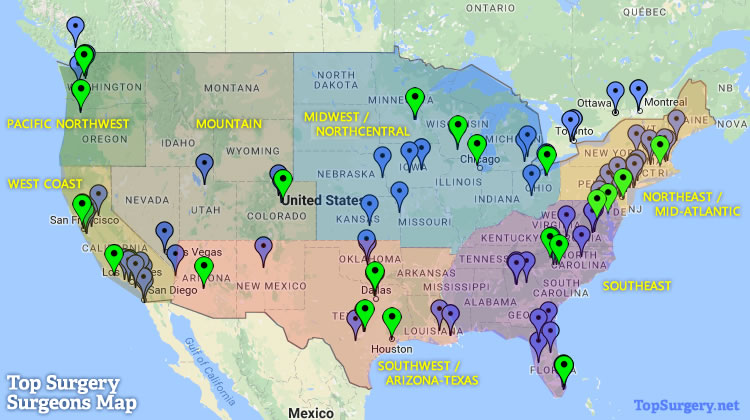 Transgender Surgery Institute of Southern California: LA area, San Diego

FTM Top Surgery in the San Francisco Bay Area since 2003. Takes Medi-Cal.

Natural-looking results since 1996, popular choice with trans men for years.

Board-certified, Duke University-trained Surgeon in Los Angeles. Takes Medicare.
Forum Discussions
Top Surgery Blog