FTM Top Surgery Guide
Find FTM Surgeons, Top Surgery Info

FTM Top Surgery is a gender reassignment procedure for transsexual men that creates a masculine chest. Top Surgery involves breast removal (Subcutaneous Mastectomy) and male chest contouring, and can also include free nipple grafts, or nipple/areola resizing and repositioning.
Top Surgery is the most commonly performed gender reassignment surgery for FTM transsexuals. Top Surgery allows a trans man to live more comfortably, improving psychological and social functioning, and it may be the only surgical step that he takes in his transition.
The different types of Top Surgery include Buttonhole Technique, Double Incision (DI), Inverted-T or T-Anchor, Keyhole and Peri Areolar.
Learn more about FTM Top Surgery »
Have Questions?

Dr. Hope Sherie has developed a new technique for FTM chest reconstruction that prioritizes nipple-areola size, positioning, sensation and pigmentation, while avoiding extra incisions and free nipple grafts.

Post-surgical drains can be one of the most frustrating and irritating parts of recovering from Top Surgery. Are drains really necessary? Features expert commentary by Dr. Scott Mosser, a board-certified Surgeon who specializes in FTM Top Surgery.
Concerned about loss of sensation? Or just wondering about how your new chest will feel? Learn more about sensation, breast anatomy and what kind of sensation to expect after Top Surgery in this first-of-its-kind primer.
Will I need a mental health letter? There's a growing number of Surgeons who don't believe that being trans is a mental illness, and they will operate provided that the patient possesses accurate information and the cognitive ability to decide about having Top Surgery.

Over 150 FTM Top Surgeries performed a year, based in the Philadelphia area.

Over 18 years experience specializing in breast surgery, board-certified.

Board-certified, FACS, Duke University-trained Surgeon, Greater Charlotte area.

Experienced, board-certified Texas Surgeon, drains-free method.

FTM Top Surgery in Wisconsin and throughout the Midwest.

Voted one of the Top 3 Surgeons in Seattle in 2014.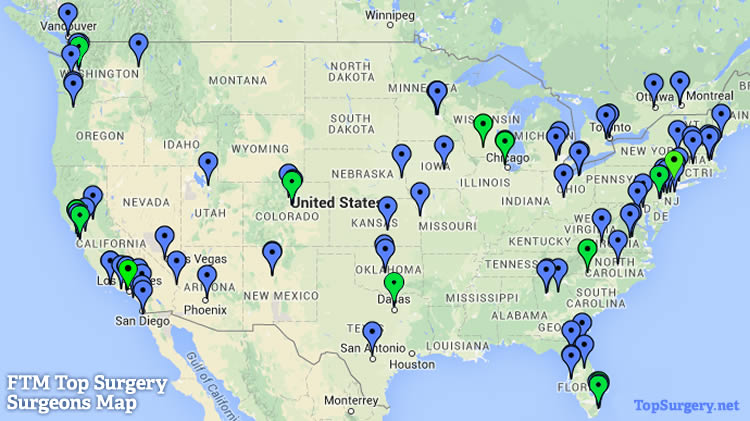 Forum Discussions
Top Surgery Blog