Top Surgery: Unbound
New Book Is a Must-Read For Those Considering FTM Top Surgery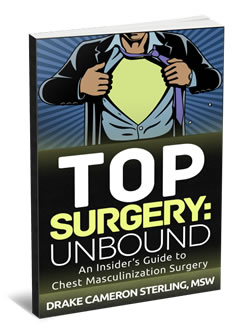 Paperback: $12.95
Kindle: $5.05
Have you ever wished you could find a book that would guide you through the process of getting Top Surgery? Now that book exists.
Drake Cameron Sterling's Top Surgery: Unbound is a new book that aims to empower those who are just getting started on their Top Surgery journey. The book is full of helpful, actionable tips. You'll learn:
How to interview surgeons
How to plan and pay for the procedure
How to survive a mental health assessment
About Top Surgery techniques
About what to expect on surgery day
How to manage drains, compression binders and scar therapies
How to prepare your home for your recovery
...and more!
About the Author
Drake Cameron Sterling holds a Master's Degree in Social Work (MSW) with an emphasis on community mental health, and is a hospital social worker, author, and diversity educator. Drake's personal experience with top surgery, along with extensive experience as a healthcare patient advocate, led to the creation of Top Surgery: Unbound.
---