Surgeons Who Use Informed Consent
What Is Informed Consent?
Informed Consent is a health care model used by providers around the world that allows patients to make decisions about their gender identity and health care. According to Informed Consent for Access to Trans Health (ICATH), the model reflects "the basic human right to self-actualization."
Often, trans men are required to get a letter from a mental health professional stating that they have been deemed psychologically ready for surgery before a Surgeon will perform Top Surgery. However, there's a growing number of Surgeons who don't believe that being trans is a mental illness, and they will operate provided that the patient possesses accurate information and the cognitive ability to decide about having surgery.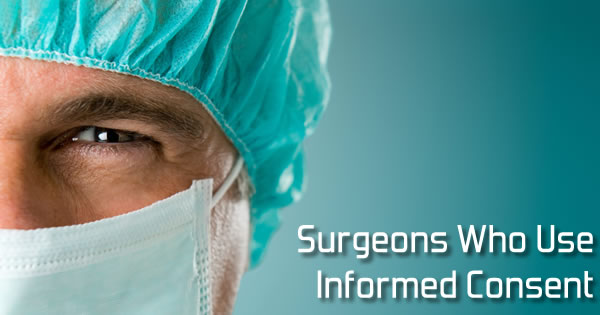 Under the Informed Consent model, Surgeons provide information about the surgery that includes methodology, duration, potential risks, after care and more. Patients are typically required to sign a legal release form that confirms their understanding of the procedure and its permanent nature, and that they are undergoing the procedure at their own responsibility.
The Surgeons listed below operate on Informed Consent. They do not require a letter from a therapist or that you undergo therapy as a pre-requisite to Top Surgery.
---
Dr. Scott Mosser, MD, FACS
450 Sutter St., Suite 1000
San Francisco, CA, 94108
855-398-7778
Board-certified; WPATH member; accepts insurance & CareCredit; FREE in-person or virtual consultations; uses informed consent, will operate on minors with parental consent; wait list 1 month.
More about Dr. Mosser »
Dr. Dustin Reid, MD, FACS
Restora Austin Plastic Surgery Centre
901 W. 38th St., Suite 401
Austin, TX 78705
512-371-8817
Double board certified, WPATH member, accepts medical financing; informed consent; free consults; wait list 3-4 weeks; no drains!
More about Dr. Reid »

Dr. Paul Steinwald, MD
The Center for Cosmetic Surgery
300 South Jackson St, Suite 310
Denver, CO, 80209
Toll-Free: 877-255-2600
Local: 303-278-2600
Double-board certified; accepts CareCredit; FREE consult; minimum age 16 (with parental support), same day consult & surgery; therapy/letter not required (informed consent); no surgeon fee for revisions; has performed hundreds of Top Surgeries since 2002; pioneered the Inverted-T procedure.
More about Dr. Steinwald »
Dr. Hope Sherie, MD, FACS
The Cosmetic Concierge
325 Arlington Ave.
Charlotte, NC, 28203
980-938-0459
Board-certified; WPATH member; accepts financing; 10% military discount; accommodation package available; informed consent.
More about Dr. Sherie »
Dr. E. Antonio Mangubat, MD
La Belle Vie Cosmetic Surgery
Bellegrove Building, 1515 116th Ave NE, #203
Seattle, WA, 98004
206-575-0300
Free consultations; WPATH member; accepts financing; accepts Group Health insurance only; informed consent. Dr. Mangubat also accepts insurance. Does not accept Medicaid (Apple Health) or Medicare.
More about Dr. Mangubat »
Dr. Javad Sajan, MD
Allure Esthetic
1455 NW Leary Way, Suite 449
Seattle, WA 98107
206-209-0988
Free consultations; WPATH member; accepts financing; accepts Group Health insurance only; informed consent. Does not accept Medicare or Medicaid (Apple Health.)
More about Dr. Sajan »
Dr. Elliot W. Jacobs, MD, FACS
815 Park Avenue
New York, NY 10021
212-570-6080
Board-certified; 30+ yrs. experience; nationally-recognized Gynecomastia Surgery expert; accepts CareCredit; informed consent; $200 consult fee; 18+ only; wait list 1 month.
More about Dr. Jacobs »
---
Dr. Beverly Fischer, MD
Advanced Center for Plastic Surgery
12205-12207 Tulamore Rd.
Timonium, MD, 21093
Dr. Gary Lawton, MD
525 Oak Centre Dr., #260
San Antonio, TX, 78258
Dr. James Parker, MD
1181 Langford Drive
Bldg 300-105
Watkinsville, GA 30677
Dr. Matthew Stanwix, MD
Richmond Plastic Surgeons
14401 Sommerville Court
Midlothian, VA, 23113
Canada
Dr. Hugh McLean, MD
50 Burnhamthorpe Rd. West, #343
Mississauga, ON
Last updated: 08/22/17