Dr. Javad Sajan
Seattle FTM Top Surgery Surgeon
Dr. Javad Sajan is a Cosmetic & Reconstructive Plastic Surgeon who offers FTM Top Surgery in Seattle, Washington.
Voted 2016's BEST SURGEON in Seattle, Dr. Sajan is recognized both regionally and internationally for his expertise and dedication to his patients.
Dr. Sajan is a member of the World Professional Association for Transgender Health (WPATH), and is committed to helping trans men in the Pacific Northwest and beyond achieve their transition goals.
Dr. Sajan offers the following Top Surgery procedures:
Double Incision with free nipple grafts

Inverted-T

Peri-Areolar

Keyhole
Surgeries take place at Dr. Sajan's state-of-the-art facility in Seattle.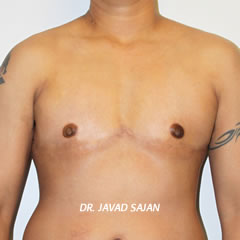 Cost: $6995. Includes Surgeon fee, facility fee, anesthesia fee, post-op garments, pre-op and post-op appointments. (Cost is a general estimate as of November 2015. Exact pricing can only be determined following a consultation.)
Cash, all credit cards, and check are accepted. Medical financing via Care Credit, Alphaeon, and United Medical Credit is also accepted. UPDATE, NOV 2016: Dr. Sajan accepts insurance from Group Health only. He does not accept Medicare or Medicaid (Apple Health.)
Additional surgeries offered: Body Sculpting, Hair Grafting.
Surgery Requirements: No specific surgery requirements; informed consent.
Consultations: Contact Dr. Sajan to schedule your FREE in-person or phone consultation.
Dr. Javad Sajan, MD
Allure Esthetic
1455 NW Leary Way, Suite 449
Seattle, Washington 98107
206-209-0988