Dr. Hope Sherie
Highest Level of Top Surgery Care on the East Coast and in the Carolinas
Dr. Hope Sherie, MD, FACS is a board-certified surgeon who has extensive training in FTM Top Surgery. Based in Charlotte, North Carolina, Dr. Sherie completed a 1 year Fellowship Training sanctioned by the American Academy of Cosmetic Surgery with a focus on transgender surgery in 2012-2013. Prior to this, she served in the U.S. Air Force Medical Corp during medical school from 1995-1999 and as an active duty Air Force surgeon from 1999-2008.
Dr. Sherie is a Fellow of the American College of Surgeons (FACS), and a member of the American Academy of Cosmetic Surgery and the World Professional Association for Transgender Health (WPATH).
Locally, Dr. Sherie works with the Charlotte Transgender Health Care Group, and supports LGBT organizations such as Time Out Youth and Charlotte Pride.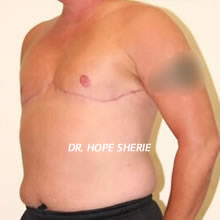 Dr. Sherie offers five different types of FTM Top Surgery: Buttonhole Technique, Double incision with nipple grafts, Keyhole Top Surgery, as well as the Inverted T and Peri-areolar methods.
You can further customize your Top Surgery results by choosing between straighter or more curves incision lines.
The cost of Top Surgery with Dr. Sherie is $7,500 - $9,000, depending on procedure. Pricing is ALL INCLUSIVE: Facility fee, anesthesia fee, post-op garments, pre-op and post-op appointments, minor revisions, VASER Liposuction of the chest/underarm area (to prevent "dog ears.") 10% discount with military or VA ID card.
Also available: Pectoral Implants, $5,580 - $6,200.
Dr. Sherie offers hi-definition VASER liposuction procedures unique to her practice.
Common areas include the chest, abdomen, waist (from underarms to hip bones), back, hips/outer thighs, inner thighs, upper arms. Hi-def muscle definition can be performed on the abs ("six pack") and arms (deltoids).
Your surgery and post-op visits take place at Dr. Sherie's private, trans-friendly surgery center located in South End Charlotte. 
If you are coming from outside Charlotte, Dr. Sherie offers recovery packages that include all needed post-operative supplements, extra dressings, and garments. Assistance with lodging and an overnight medical caregiver can also be arranged.
Booking Top Surgery
Contact Dr. Sherie to schedule your in-person or phone consultation. The consultation fee of $100 will be applied towards your Top Surgery cost.


Dr. Sherie accepts cash, credit cards, and check. Medical financing via CareCredit, United Medical Credit, and Lending USA is also accepted (additional fees apply.)


Dr. Sherie does not accept insurance at this time, but will provide codes and documentation needed for you to file a claim with your insurance, if desired.
Additional surgeries offered for trans men: Body Sculpting.