Dr. Elliot Jacobs
Nationally-Recognized Chest Surgeon in New York City
Dr. Elliot Jacobs is a board-certified plastic surgeon in Manhattan who has more experience with male breast reduction than almost any other plastic surgeon in the country.
Dr. Jacobs' techniques have been featured extensively in the media, including programs such as ABC's 20/20 and Good Morning America, CBS's The Early Show, The Doctors, MTV's True Life, and Discovery Health. In private practice since 1977, and with thousands of satisfied patients, Dr. Jacobs is the experienced choice for a New York Top Surgery surgeon.
Minimal Scar Top Surgery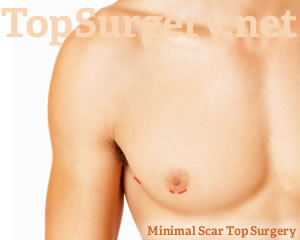 Dr. Jacobs is a longtime, nationally-recognized expert in Gynecomastia Surgery, a procedure for men and adolescent boys who suffer from male breast enlargement. Based on his Gynecomastia Surgery techniques and adapted for trans men, Dr. Jacobs' Minimal Scar Top Surgery procedure uses a smaller incision below the areola plus small incisions on the side of the chest.
Minimal Scar Top Surgery is very similar to Keyhole Top Surgery but has the advantage of enabling more extensive removal of fat and breast tissue. Nipple sensation is retained. The excellent male contour and nearly invisible scars from this procedure make it an excellent option for small-chested trans men with good skin elasticity. (Note that a year or more on Testosterone can reduce chest size, so suitability for this method of Top Surgery may improve with time on Testosterone.) Areola and/or nipple reduction can often be performed at the same time (for an additional fee.) Revisions can further improve results.
If you are just outside the criteria for being suited to the Minimal Scar procedure, Dr. Jacobs can do a staged Minimal Scar procedure that will still yield low scarring and great results.
"No one does [Minimal Scar Top Surgery] in New York as well as I do." —Dr. Elliot Jacobs, New York Times
Other Methods of Top Surgery
For trans men who aren't suited to Minimal Scar Top Surgery, Dr. Jacobs also offers Double Incision Top Surgery. Double Incision leaves more visible scars under the pectoral muscles, but these fade and can be further obscured by chest hair and/or tattoos. Nipple sensation is affected by this procedure. Double Incision remains the optimal choice for large chested men.
Surgery & Facility: Surgeries take place in Dr. Jacob's private and fully accredited surgical suite in Manhattan. Dr. Jacobs has worked with the same MD anesthesiologist, Dr. Calvello, for more than 25 years. Most patients are given twilight (or IV) sedation, which unlike general anesthesia, involves no breathing tube and doesn't cause sore throat, nausea or grogginess post-operatively. Top Surgery is an outpatient procedure lasting about 1.5 - 2 hours. You will be able to leave the surgery facility about 2 hours after your surgery.
Surgery Requirements: A letter of recommendation from your primary care physician or counselor is recommended but not necessarily required. Patients must be 18 years of age or older. Mammogram required. 6 months of living as preferred gender.
Out of Town Patients: Dr. Jacobs often works with patients from other states and other countries. His staff can provide assistance with New York travel details and hotel recommendations. A medical caregiver can also be arranged.
Financing & Fees: Dr. Jacobs accepts cash, credit cards and medical financing via CareCredit and Alpheon. Dr. Jacobs does not accept Medicare, Medicaid or insurance, though an insurance claim can be submitted after surgery on your behalf.
Procedure
Price (USD)
Minimal Scar Top Surgery
$9000 (w/o nipple reduction)
$11,000 (w/ nipple reduction)
Double Incision Top Surgery
$16,000
Pricing is approximate. Price includes surgeon fees, anesthesia, operating room fees, implants, garments, all follow up care, plus revision (if indicated) surgical fee within the first year.
Consultations: Dr. Jacobs is available for FREE in-person consultations at his office in Manhattan. Book your consult here.