How-To Guide: Insurance Coverage for FTM Top Surgery In the United States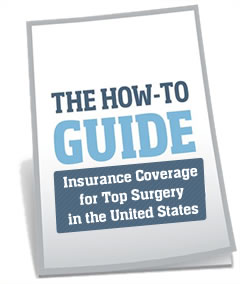 This new guide walks you through the process of getting insurance coverage for FTM Top Surgery, including how to file an appeal and reverse a denial of coverage.
The US Dept. of Health and Human Services finalized a rule in May 2016 that prohibits categorical exclusions in health plans that receive federal funding. This means that your insurance company may be in violation of federal regulations if your plan has transition-related exclusions.
Insurance companies are not expected to immediately comply with the regulation's requirements, which come into effect on July 18, 2016. This puts the onus on YOU to go after them if they illegally deny you surgery coverage.
"Categorical exclusions can be overcome and are now illegal in many cases."
It's important to note that the guide was authored by a non-binary individual who is not on Testosterone, lives in state that had no legal protections at the time of relevant experience, and had an insurance plan with exclusions---yet they still got their Top Surgery covered! Now they're sharing how they did it with anyone who can benefit from the information.
In clear language, this step-by-step guide will help you understand how to:
Determine if your insurance plan covers Top Surgery

Meet the criteria for medical necessity

Find a surgeon who is in-network with your health insurance

Get a surgery consultation

Submit a request for pre-authorization

File an appeal if you are denied coverage (appeal letter template included.)
Related:
---
Leave a Comment