Surgeons Who Accept Medicaid for Top Surgery
Medicaid is a state-run health insurance program that provides payment for medical services for low-income citizens. The map below shows which states have have clarified that the state Medicaid program covers transition-related care.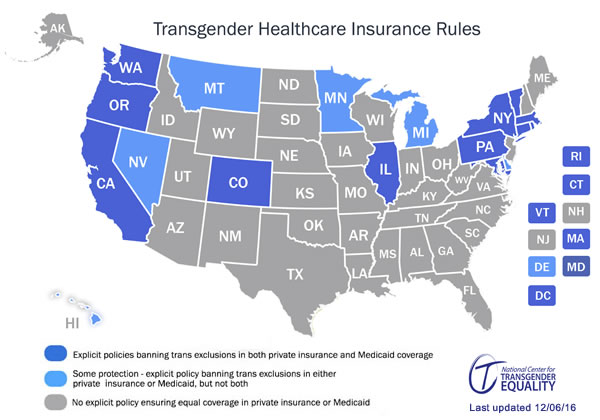 Important Note: Even in states not listed here, transgender exclusions in Medicaid plans may violate the Affordable Care Act and other federal and state laws. - National Center for Transgender Equality
If you live in California, this guide will help you understand the procedural steps to appeal a health care denial for health care plans that are managed by Medi-Cal.
How to Proceed With Medicaid
1. Your primary care provider (PCP) writes a letter of medical necessity and requests a referral to a surgeon.
2. If approved, Medicaid will send the referral along to the surgeon, and the surgeon's office will contact you about your consultation date.
3. The surgeon will request a medical release from your PCP, a letter of recommendation from a therapist, and prior authorization from Medicaid for surgery. (Depending on your age and medical history, the surgeon may also order lab tests, a chest X-ray and a mammogram.)
---
Surgeons Who Accept Medicaid
Dr. Kathy Rumer, DO
Rumer Cosmetics
105 Ardmore Ave.
Ardmore, PA, 19003
855-782-5665
www.rumergendersurgery.com
Pennsylvania Medicaid; approved out-of-state Medicaid provider for New York; Board-certified; WPATH member; accepts financing & insurance; accommodation package available; wait list 2-4 months; $75 consult fee.
More about Dr. Rumer »
Dr. Joel Beck, MD, FACS
Bay Area Aesthetic Surgery
1241 E. Hillsdale Blvd., Suite 190
Foster City, CA, 94404
650-570-6066
www.bayareaaestheticsurgery.com
Board certified; WPATH member; accepts medical financing, insurance and Medi-Cal; free consults; operates on minors with parental consent; wait list 2 months.
More about Dr. Beck »
Dr. Clifford King, MD
Madison Plastic Surgery
2275 Deming Way, Suite 200
Middleton, WI, 53562
www.TopSurgeryMidwest.com
Board-certified; accepts insurance, Medicare and Medicaid.
More about Dr. King »
---
California (Medi-Cal)
Dr. Joel Beck, MD, FACS
Bay Area Aesthetic Surgery
1241 E. Hillsdale Blvd., Suite 190
Foster City, CA, 94404
More about Dr. Beck »
Dr. Esther Kim, MD
UCSF Department of Surgery at SFGH
1001 Potrero Ave., Ward 3A
San Francisco, CA, 94110
Dr. Gordon Lee
Dr. Dung Nguyen
Dr. Irene Wapnir
Stanford Medicine
725 Welch Rd.,
Palo Alto, CA 94304
Dr. Thomas Satterwhite, MD
Brownstein & Crane Surgical Services
575 Sir Francis Drake Blvd., Suite 1
Greenbrae, CA, 94904
(Medi-Cal through Anthem only.)
Colorado
Dr. Joyce Aycock, MD
CU Plastic Surgery
1635 Aurora Ct, 3rd floor
Aurora, Colorado 80045
Connecticut
Dr. David M. Bass, MD, PC
85 Seymour St #718,
Hartford, Connecticut 06106
Dr. Charles Castiglione, MD, FACS
Hartford Healthcare Medical Group
399 Farmington Ave., Suite 10
Farmington, CT 06032
Dr. John A. Persing, MD
Yale Plastic Surgery
Yale Physicians Building, 800 Howard Ave., Ste 4th Floor
New Haven, CT 06519
Massachusetts
Dr. Pranay Parikh, MD
Medical Office Building 2
Medical Center Dr., Suite 309
Springfield, MA 01107
Dr. Jaromir Slama, MD
Boston Medical Center
Shapiro Center
725 Albany St., 8th Floor, Suite 8A
Boston, MA 02118
Dr. Adam M. Tobias, MD
Beth Israel Deaconess Medical Center
330 Brookline Ave.
Boston, MA 02215
Nebraska
Dr. Cassidy Mitchell, MD
Lincoln Aesthetic Surgical Institute
Bryan West Campus, West Medical Plaza, Tower A,
2222 S. 16th St., Suite 430,
Lincoln, NE 68502
New Mexico
Dr. Jeff Morehouse
Mariposa Plastic Surgery Center
5006 Gibson Blvd. SE
Albuquerque, NM 87108
New York
Dr. Kathy Rumer, DO
Rumer Cosmetics
105 Ardmore Ave.
Ardmore, PA, 19003
Approved out-of-state Medicaid provider for NY
More about Dr. Rumer »
Dr. Rachel Bluebond-Langner, MD
NYU Langone Medical Center
NYU Plastic Surgery Associates
305 East 33rd St.
New York, NY, 10016 US
Dr. Jose G. Christiano, MD, FACS
UR Medicine Plastic Surgery
160 Sawgrass Dr., Suite 120
Rochester, NY 14620
Dr. Alexes Hazen, MD
NYU Langone Medical Center
NYU Plastic Surgery Associates
305 East 33rd St.
New York, NY, 10016 US
Dr. Thom R. Loree, MD
100 College Pkwy., #290
Buffalo, NY 14221
Dr. Jess Ting, MD
Mount Sinai Center for Transgender Medicine and Surgery
Institute for Advanced Medicine
275 7th Avenue
New York, NY 10011
Dr. Paul Weiss, MD
1049 Fifth Avenue, Suite 2D
New York, NY, 10028
Oregon
Dr. Jens Berli, MD
Oregon Health & Science University
Transgender Health Program
3181 SW Sam Jackson Park Rd.,
Portland, OR 97329
Dr. Juliana Hansen, MD
Oregon Health & Science University
3181 SW Sam Jackson Park Rd.
Portland, OR 97239
Dr. Hemangini Thakar, MD, FACS
Legacy Medical Group - Reconstructive Surgery
2800 N. Vancouver Ave., Suite 130
Medical Office Building 1
Legacy Emanuel Medical Center campus
Portland, OR 97227
Pennsylvania
Dr. Kathy Rumer, DO
Rumer Cosmetics
105 Ardmore Ave.
Ardmore, PA, 19003
More about Dr. Rumer »
Rhode Island
Dr. Daniel Kwan, MD
Rhode Island Hospital
Dept. of Plastic Surgery
235 Plain St.
Providence, RI 02905
Texas
Dr. Anh Nguyen, MD
Baylor College of Medicine
Center for Aesthetic Surgery
Jamail Specialty Care Center
1977 Butler Blvd., 6th Floor, Suite E6.100
Houston, TX 77030
Vermont
No listings
Washington (Apple Health)
Dr. Jens Berli, MD
Oregon Health & Science University
Transgender Health Program
3181 SW Sam Jackson Park Rd.,
Portland, OR 97329
Out-of-state Medicaid provider
Dr. Juliana Hansen, MD
Oregon Health & Science University
3181 SW Sam Jackson Park Rd.
Portland, OR 97239
Out-of-state Medicaid provider
Washington DC
No listings
Wisconsin
Dr. Clifford King, MD
Madison Plastic Surgery
2275 Deming Way, Suite 200
Middleton, WI, 53562
More about Dr. King »
Last updated: 10/02/17