Smooth Operator: The Music Your Surgeon Is Listening To In the OR During Top Surgery
We tend to think of the theatre as a quiet setting, but the operating theatre is anything but quiet. Once you're under, the operating room where you're having your Top Surgery done will be filled with occupational noise: the OR staff talking, machines whirring, metal instruments clanging, monitors and alarms beeping, and... the sound of music.
According to a recent survey conducted by Spotify and Figure 1, nearly all (90%) of surgeons and surgical residents listen to music in the OR. (This is up from 63% reported in a 2008 study.)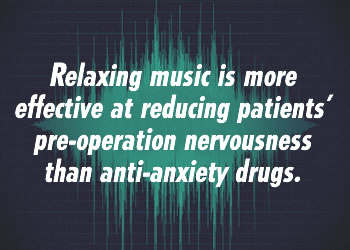 Music and healing arts once went hand in hand: The Chinese character for medicine includes the character for music. In ancient Greece, music was used to ease stress, promote sleep, and soothe pain. Native Americans and Africans use/d singing and chanting as part of their healing rituals.
The innovative Evan O'Neill Kane, probably best known for removing his own appendix, is credited with being the first western physician to employ music therapy for surgery patients in 1914, when he lugged a gramophone into the operating room and played records to help calm his patients before and during anesthesia.
The practice became more common in the 1930s, and medical journals of the time recommended "soft, soothing, melodious music" as best for patients, but advised surgeons to avoid jazz. (Why??)
Studies have affirmed the calming effects of music on surgery patients. A 2009 study of 372 patients found that playing relaxing melodies that mimicked the resting heart rate was more effective than standard pharmaceutical interventions in reducing anxiety before patients went under anesthesia. A 2010 study also reported that music in the operating room diminishes the anxiety of patients.
Today, operating room music isn't just for patients; it's also for staff.
Evidence suggests that carefully self-selected music can have a beneficial effect on some surgeons during specific stages of the surgery. A 2015 study reported that not only did listening to music while operating improve the speed with which residents performed wound closures, but it also improved the quality of the repair. Around 80% of theatre staff reported in a 2014 study that music benefits communication between team members, reducing anxiety levels and improving efficiency. Music also appears to enhance surgical performance by increasing task focus, particularly among surgeons who listen to music regularly.
A 2010 study found that "music in the operating theatre has immeasurable effects. It can prevent distraction, minimize annoyance, reduce stress and diminish the anxiety of patients and staff." And 78.9% of the participants in a 2008 study claimed that music in the OR makes them calmer and more efficient.
Dr. Jens Berli recently shared his OR playlist on Facebook:
That got us wondering about all the music that's being played during these life changing surgeries, so we asked several popular Top Surgery surgeons what they listen to in the OR. Here's what they said:
Chillin' With the Doc' of the Bay
New York State of Mind
Launching Off In Cleveland*
Evolution of Musical Tastes in the OR
Classical music is the most requested (58%) music in the OR according to the 2008 study.
The 2014 study humorously suggests tracks such as Stayin' Alive by the Bee Gees, Smooth Operator by Sade, Comfortably Numb by Pink Floyd, and Wake Me Up Before You Go-Go by Wham.
According to the 2017 survey conducted by Spotify and Figure 1, rock is the most popular genre of music surgeons listen to while operating (49%), followed closely by pop (48%), classical music (43%—down from 58% in 2008), jazz (24%) and R&B (21%). Here is a playlist of top rock songs that appear often on playlists of the surgeons surveyed.
Given the choice, what music would you want your surgeon to be listening to during YOUR Top Surgery? Leave a comment below!
---
Leave a Comment